WELCOME TO THE BLOGISSPHERE
To be Born Again, or not to be Born Again. " That is the Question". Or the question should really be, once saved always saved. That is the conundrum.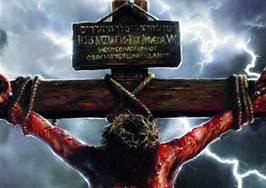 Let me preface this, the thought accorded to me, one day. I recently went to a Rapture church, with a old Acquaintance of mine, and old friend. We hadn't seen each other for quite a while. He called me up, to let me know he had given his live to Jesus amen. He was a Catholic, all of his life. I use to preach to him it was a Pagan religion, and he needed to repent and give his life to Christ.
You know the little ole Ten Commandments #1, I am thy Lord God, thou shalt have no other gods before me. Oh you mean the god the Pope,Saint, Peter, or mother Mary that you all whom worship, and put forth in front of Jesus, Get it? If it looks like an idol, and smells like an Idol, what the hell do you think it is?
Don't get me wrong, I Love mother Mary, what a mom, we wish we all had, gave birth to a Perfect, and Holy Son, What's not to admire, God loved her so much, but not as an idol. And I can't wait to meet Peter, to shoot the breeze.

But again Christ has to come first,  # (1) you cannot enter into Heaven through the Sin-full Pope, Mother Mary, neither Peter, only though Christ, (John 14:6) remember. Only the perfect sinless Son, period.
Long story short a few years had gone by, and he called me to tell me he did. So we talked for a while to tell each other our long and, tempering, journeys. Of walking with the Lord and the trials that, you have when you truly pick up your own cross daily.
What struck me was he was just like me. He had been looking for a Bible centered, not prideful, deceitful, centered church that really speaks the true Bible and the gospel. Which today, honestly is almost impossible. Due to the 501(3) (c), status government ran apostate churches, that are threatened to keep their tax free status, and they must comply with the Devil, to keep their grace.
And their get along to go along, apostate churches. Get it, Christlum, or what ever, false pagan religion the Devil has concocted, and the idiots of this country fall lock step, off of the cliff, when so ordered. Right into the Lake of Fire.
The wife and I have been too, maybe 8,9,10 different denominational churches, over the last (10) years or so. They are barely feeding their flock, with sour milk. If anything I walked away so discouraged, due to they were mostly flat. The Holy Ghost, was none existence. It felt totally scripted. No um mph, to it. It was truly flat, boring, and left me hungering for something else.
I needed to be convicted, someone to tell me like it was. Expose my

sins

to me, preach the Gospel, so Jesus can cleanse them. I desired to bite off a big old chunk of beef, tired of old rotten sour milk.
Needless to say, the wife and I no longer attend any church at all. I know my brothers and sisters will say. how dare you. The body needs each other, you cant have to the toe, without the finger, right?
 The one thing we both have learned over these last 14 years, trial by fire. Is not to trust, any ( Jeremiah 17:5)& ( Jeremiah 17:7) man, and/  or women,I mean no one. I am not saying that in these times we, diffidently are going to need each other to lean on, as the Body of Christ. But remember the sheep in ( Matthew 7:15)wolves clothing. Who are you supposed friends really. Are they, when the you know what, really hits the fan, are they going to turn against  you, get it? Brother against Brother, Mother against Daughter, ( Matthew 10:34-40)Father against son, get it?
Any way I sort of got off of track. But just followed by, inside thoughts, and my teacher.
 What I started to refer to was the Rapture, church I believe full of my brothers in Christ, Bible in hand praying and listening to the Pastor, give his sermon, of the Holy Ghost.
This went on for an hour or so. As the Pastor started to wind down. He held his Bible in the air, I believe. But what struck me with a cord. Was when he and everyone in the church, yelled out something to the effect, that Jesus loves us, nothing can come against us, which is true. But then he preceded to say, once saved always saved, Jesus will always be their for us. Something like that anyway, you get the point.
Which started my story for today. To be or not to be. "That is the Question" The question I am asking you all who believe this, please show me in the Bible that states unequivocally, when you come to Christ, you are guaranteed a spot in Heaven with the Father and his Son.
Lets first go with the only good Scripture that I could find relevant to this subject.
(John 17:12) Jesus states. While I was with them in the world, I kept them in thy name: those that thou gavest me I have kept, and none of them is lost, but the son of perdition; that the scripture might be fulfilled. ( Jesus is no longer in the world, what say you?)
OK now hears the rest. That go against that verse.
Look at what king david says unto the Lord. ( Psalm 51:11) He asks, Cast me not away from thy presence; and take not thy holy spirit from me. ( Whoa, did you hear that, why would he say that if, the holy spirit was guaranteed, get it? Once saved, always saved, and always have the holy ghost, sound familiar.)
(Hebrews 6:4-6) For it is impossible for those ( Born Again) who were once enlightened, and have tasted of the heavenly gift, and were partakers of the Holy Ghost, And have tasted the good word of God, and the powers of the world to come. If they shall fall away, ( Back Slid-den, the remember four seeds) to renew them again unto repentance; seeing they crucify to themselves the Son of God afresh, and put him to an open shame. (If you have accepted Christ, you had better finish the race, woe unto you and I, if we don't, Hell awaits with open arms.)
( Matthew 7:21) Not every one that saith unto me, Lord, Lord, shall enter into the kingdom of heaven; but he doeth the will of my Father which is in heaven. (Now ask you self a very imperative question, are you right now, this very second, if God called you home in his will?)
( Matthew 7:13-14) Enter ye in at the straight gate: for the wide is the gate, and broad is the way, that leadeth to destruction, and many there be which go in thereat: Because straight is the gate, and narrow is the way, which leadeth unto life, and few there be that find it. ( Now here's the kicker. Are you living for Jesus, or the world. Remember, you cant serve two masters, whom are you serving, you ask?)
(Matthew 10:32-33) Whosoever therefore shall confess me before men, him will I confess also before my Father which is in heaven. But whosoever shall deny me before men, him will I also deny before my Father which is in heaven. ( Look deep into your souls, ask you self when was the last time you, spoke his Name. And, have you denied your faith to anyone, because of the persecution.)
( Matthew 13:4-9) And when he sowed, some seeds ( The Word)fell by the way side, and the fowls ( Birds) came and devoured them up: ( You tried for little while, but because of the persecution of the world, you gave up.)
Some fell upon stony places, where they had not much earth: and forthwith they sprung up, because they had no deepness of earth:( You never continued pressing forward, you fell back into you old life.)
And when the sun was up, they were scorched; and because they had no root, they withered away. ( You never picked up the Bible, so were lost, and came back to the world for directions.)
And some fell among thorns; and the thorns ( World) sprung up. and choked them: ( You became silent, and afraid)
But other fell into good ground ( You put on your (Luke 12:4-5) Armour), and brought forth fruit, some an hundredfold, some sixty fold, some thirty fold. Who has the ears to hear, let him hear. ( You drove everyone nuts, you preached the Gospel, you ate up the word, like it was a great big t-bone steak. You prayed for the lost. You gave to the poor. You,most of all repented of your old lifestyle, and continued on your walk with your father and his son. You produced fruit. And most of all you finished the race, you did( Acts 20:24) not get a D.N.F, get it.)
( Matthew 22:14) For many are called, but few are chosen.( Were you called and let the cares of the world, turn you away from the gospel, and the lord, you ask?) And you are no longer chosen!
( Luke 6:46) Jesus says, and why call me, Lord, Lord, and do not the things which I say? ( What has he asked you too do?)
Now ask yourself, if I am wrong, then why does Jesus say this in (Luke 13:27-28) (I don't believe this just pertains to thew Pharisees. Because the rest of the verses above are for his called out ones, get it?)
Look at what Jesus says in ( Luke 14:26-34) (What I believe Jesus is saying, that you must let go of the world, and quit trying to appease it. If the world still loves you, and your family members think you are the greatest thing since slice bread, woe unto you.) You have to live in it, but you are to be of a stranger in a foreign land. If you are of Christ, the world will hate you and want to castrate, you and throw you into an oven and fry you like a thanksgiving turkey, get it?
(Luke 16:13) Jesus says. No servant can serve two masters: for either he will hate the one, and love the other; or else he will hold to the one, and despise the other. Ye cannot serve God and mammon. ( Now ask yourself, whom are you trying to please the world, and the Devil, and / or are you seeking your eternal salvation, which resides in the fate of Jesus.)
( John 12:25) He that loveth his life shall lose it; and he that hateth his life in this world shall keep it unto life eternal. ( Do you hate you life, or are you just all hunky dory, walking right into the gates of Hell, willingly)
( John 14:15)( Jesus says, quite fittingly, to this blog of today.) If you love me, keep my commandments. ( Unless you put on your Armour daily, and strive for the straight gates, you are not keeping his commandments, so why do you think you, nor I deserve to be with the Father and his Son?)
Now the final quiz, of the day. Is where do you stand, are you cold or hot for Jesus. Is your tree producing fruit, or is Jesus going to cut off your fruitless branches,  cast them into the fire,like a good vine-dresser does to a bad tree, so the next branches will produce if the old ones won't.
 You had better think long and hard where does you heart lye. There is no third choice. Also, what do you think the enemy is going to do to you, when he gets you in his kingdoms, invite your over to cookies, and crumpets. Maybe a beer. You are an abomination to him, he will make hay day, out of you and I, who fall back into the world. This is no joke, if you fail Gods mission, woe unto you and I.

Repent, I hope it is not too late. Amen.

( Hebrews 6:4-8)
 To be Born Again, or not to be Born Again. " That is the Question". Or the question should really be, once saved always saved. That is the conundrum.