WELCOME TO THE BLOGISSPHERE



FOR ALL OF YOU WHO HATE MY FATHER AND HIS SON.
(PHILIPPIANS 2:10:11)

THAT AT THE NAME OF JESUS EVERY KNEE SHOULD BOW, OF THINGS IN HEAVEN, AND THINGS IN EARTH, AND THINGS

UNDER THE EARTH

; ( DEVILS, DEMONS, SPIRITS )AND THAT EVERY TONGUE SHOULD CONFESS THAT JESUS CHRIST IS LORD, TO THE GLORY OF GOD THE FATHER.
THIS IS WHERE EVERY LIVING BREATHING ANIMAL, HUMAN, MAMMAL, IT DOES NOT MATTER. WHEN JESUS CHRIST RETURNS TO CLEANSE THE EARTH OF THE DEVIL, AND HIS FALLEN ANGELS AND SINNERS ALIKE, AND CAST THEM INTO THE LAKE OF FIRE.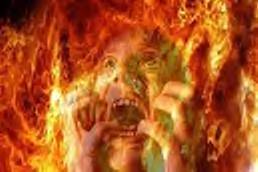 YOU AND I, WILL ALL BE IN THIS POSITION, ON OUR KNEES PROFESSING THAT JESUS IS KINGS OF KINGS , AND LORD OF LORDS. THIS MEANS ALL THAT BREATH, AIR!
THE PLACE, I DO NOT DESERVE TO BE AT MY FATHERS FEET. THANK YOU FATHER FOR SACRIFICING YOUR ONLY BEGOTTEN SON,( JOHN 3:16) FOR A LOST SOULS, SINNERS LIKE ME.
FOR ALL YOU WHO HATE MY FATHER AND HIS SON. JESUS CHRIST DIED FOR YOU, WITH LOVE AND HOPE.
AMEN, AND AMEN