WELCOME TO THE BLOGISSPHERE
 The blood of Christ, is an offence to

sinners

, and the world alike! The irony of this statement is, the very blood that every human beings has an offence too. Is the one, and only way to enter into Heaven, get it?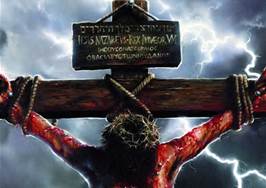 THE BLOOD OF JESUS, SHED ON THE CROSS FOR YOU AND I.
(Matthew 26:23) For this is my blood of the new testament, which is shed for many for the remission of sins. ( His perfect blood sacrifice.)
(1 John 1:7) But if we walk in the light, as he is in the light, we have fellowship one with another, and the blood of Jesus Christ his son cleanseth us from all sin. (Wow, what a statement, you tell me were anyone else in the Universe can say that, they can't!)
( Revelation 5:9) And they sung a new song,saying, Thou art worthy to take the book, and to open the seals thereof: for thou wast slain, and hast redeemed us to God by thy blood out of every kindred, and tongue, and people, and nation. ( Not (1) Town, City, State, Country, and / or Nation did Jesus forget, he shed his perfect blood for all, whom believe.)
( Hebrews 10:19) Having therefore, brethren, boldness to enter into the holiest by the blood of Jesus. ( Come with humility as a sinner, ask him for forgiveness, so you will be able to be bold later to enter into his presence.)
( Colossians 1:20 ) And, having made peace through the blood of his cross, by him to reconcile all things unto himself; by him, I say, whether they be things in the earth, or things in heaven. ( You will chase the world, and the devil by his tail, trying to find peace, and joy. You will never have peace, without his blood.)
Romans (5:9) Much more then, being now justified by his blood, we shall be saved from wrath through him. ( Only Jesus can Justify us because of his Love, for sinners .)
( Ephesians 2:13) But now in Christ Jesus ye who sometimes were far off are made nigh by the blood of Christ. ( You cannot not have a relationship with Jesus, without his blood, and his Salvation.)
 (Hebrews 9:22) And almost all things are by the law purged with blood; and without shedding of blood is no remission. ( There is no forgiveness, of yours and mys sins without coming through the Son, you will perish into an eternal damnation justified, because thou did not believe in him!)
( Romans 3:25) Whom God hath set forth to be a propitiation through faith in his blood, to declare his righteousness for the remission of sins that are past, through the forbearance of God;( God so loves the world, he shed his Son's blood, out of his Love for us.)
Now when you read all of this above, how can any human being, not fall on his knees and cry out to Jesus, and say the sinners prayers, that I have put on the front page.
I will tell you why? Because you have all given into the lust of the world, and into the devils ways. That's why you have free will. God, nor Jesus, nor I. Will never force ourselves on you. You have to come by faith, to enter into Gods presence.
As long as you are chasing the devil by his tail, and willing to have all that the world has to offer. Greed, Hatred, ( Romans 1:24-32)Pride, Lust, Murder, you get the point. You will always be miserable, unhappy, and seeking peace were you will, never find none in the devils kingdom, get it?
Asking for forgiveness from a man, is like asking the devil for forgiveness. They are one in the same. The very second you pop out of your mothers womb, we all belong to the devil. This is his kingdom. The Lord resides in Heaven at the right hand of the father. This is not his world. He sacrificed his blood, to free you and I, of eternal damnation with the little god of this despicable, back slid-den, gross, defiled, world, get it?
 Again, it is impossible to enter into heaven without Jesus, nor is anybody who has died, before, and to come. If you don't repent, you will be also in hell, if you don't come to Jesus by faith, and ask him for his forgiveness, and believe and understand without any reservation that you are a sinner.
And that he and only he, can wash you  and cleanse you and I, with his perfect and holy, blood sacrifice. There is no other way into Heaven, period. The rest who spout there is are lairs, and all will be with you in hell if you don't repent.
Come back to well of living water, the spring of eternal life.
Repent, Repent, and Repent, and thou shall be saved.
 The blood of Christ, is an offence to

sinners

, and the world alike! The irony of this statement is, the very blood that every human beings has an offence too. Is the one, and only way to enter into Heaven, get it?