WELCOME TO THE BLOGISSPHERE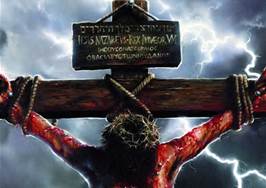 MUSLIM NATIONS ARE CURSED SAYETH, THE LORD
As you read the Bible. You can see that, due to Abraham's, adulterous affair, which was against the Lord. Abraham and Sarah did not wait to have children, as the Lord told them too! Abraham had sex with his servant, instead of waiting on the Lords timing.
So due to his, adulterous affair, with his maid servant Agar, they had Ishmael,  against Gods will. God spoke clearly that the promise that Sarah, and Abraham, would have, for his Son's Isaac, and Jacob, would not be found in the linage, of Ishmael.
God blessed these nations, with all of the riches, but they would never enter into the promise land, period. But they were also cursed buy (3 Galatians 10:14) God, as to they would never have peace, until the Lord, comes back to purge the earth of all the wickedness, including us, as a Nation if we don't repent. And bring his children unto a new land, which the Lord will reign, King of Kings, and the Lord of Lords. The Dome of the Rock, Israel.
Look the Muslim, Islam world, will never except our way of life, period. Allah, is the devil in him self, period.
They want all Christians, and Jews to be wiped off of the earth, Get It! The promise was passed through Abraham, unto the Gentiles, Christian, not any other sects, and / or religions which are against the Lord. Muslims, Buddhist, Catholics, Mormons, Jehovah Witness, especially, the most vile of all is Islam, there are thousands of sects which believe they have the promise, which they unequivocally, absolutely, no other way into heaven (John 14:6) you get the drift, they are all cursed except, Born Again, Believers, the called out ones.
Read the Bible, it's what it, says, like I said it before, it does not matter what you believe in, you are still Judged by it and it's laws that are ascribed unto, this worlds D.N.A, whether you like it or not. If you don't, believe it you are still, going to burn, sorry but its the truth.
I
am just the messenger its not easy, because the world hates you,

(Mark 6:11)

your families, and friends scorn you, and the worse is that the

Devil

, is out to destroy, like a roaring Lion.
And it Sucks, that such wicked is allowed to somewhat prevails, against the Lords children, but that's the price you have to pay ,Get It. Pick up my cross daily, so you have chance to enter into the Glory, of the Father, Son, and Holy Ghosts, kingdom, otherwise there's Hell fire, and brimstone, of eternal suffering, which, is something I cant, and don't even want to contemplate, due to it scares the shit out of me, it is the most terrible thing that you can't imagine, but you will know when the Lord, snap's the silver cord, from your soul, and you will be judged and cast into the fiery lake. If you do not know Jesus, the only way unto heaven, period.
Look the reason this is all came up, is due to the Presidential decree, and all of the crap the vile, gross media (Matthew 15:11)in spewing on the brain washing idiot tube. ( Matthew 15:13)Talking about the ban of some peoples from terrorists countries who hate, us, and want to wipe us off of the earth, Which, that wonderful Muslim, ex president, thank God, thank God, can due no more harm, to this great Christian Nation, who God has so mercifully, bestowed a place of refuge, for Jews, and Christians to escape, for tyranny, Get It? George the Great!
Your right, we have been the most gracious nation on earth to provide an place of, for all peoples who want to come here to have a better life. This has all but destroyed, are sovereignty, due to other cultures do want to assimilate, in to ours Christian, values and beliefs.
Look if you do not like it here, then get the hell out of my country, we are not going to allow other cultures to pervert, destroy, our heritage, of our Christian beliefs, there will be civil, war. The blue collard worker will, and cannot take anymore, of this judgment from other nations, trying to impose their ways of life on us, no more! This is a fact, us Christians will not allow, this to happen. We are waiting on the Lord, to give us this time and place this will happen.
We of course, Pray that this will never happen, but if Islam, Muslims and what ever other devil worshiping religions want to change our cultures, screaming Allah, Allah, and their loud speakers on a top of their, Devil worshiping temples, in Michigan. You need to Repent, and Repent of their wicked ways.
If you cant, we do not want you here!
Look even so, lets say the lies that are out there, stating that there is about only 1%, maybe 2% that are terrorists, in these supposed the most wonderful, Christian loving groups, Muslims, and Islam. Which is a false fact, like, the lies, the fake, gross, vile supposed news media. They make up their facts to suit their lies, they perpetrate on the world, Get it, New World Order.
If I set 10 glasses of water in front of you,  and I told you that (1) was full of cancer and you knew, if you drank it you would die, and / or  head chopped off, boiled in oil, drowned in cages. And I asked you take a chance, and drink one of the glasses of water, and used the same analogy, would you drink it.
You freaking liars, I no damn well, all of you Devil, worshiping hypocrites, would not take the chance. The only reason you are standing up, is because you serve the Devil, and all ,of demons, that posses you, read the Bible. (7 Mark 20:23)
Its just like the devil worshiping Catholic Pope, ( Mark 13:22) spewing his vile hatred for Christians, and this 45th President. By the way Pope, shut the (#$@&) up. The only reason is because the Majority of the Latinos, legal, and ill legal, are beholden unto the Devil worshiping, Catholic religion, which will suck every penny they have, to build his golden walls around his comfy, devil worshiping home, the Vatican. Whom has killed more Christians then even Muslims, and /or Islam, to date anyway.
At least the 45th President, worked his ass of to coat his walls in Gold, and didn't steal it from, everyone else like all of the self righteous, groups, of supposed Jesus loving religions.
We need the wall, we don't need anymore people that due not believe in out Constitution, and / or our Flag, and it's values. Lets see you go over to China, or pick any other Socialists country and see if they will except, Muslims, Islam, Mexicans, Jews, into their country, and put another faith in charge of their country, get it president, Muslim in chief. It wont happen, they are to smart to let, their sovereignty of their people be destroyed by none believers, that's their right, as it is our right, as Christians, to vette, anyone who wants to change, modify, and /or destroy our beliefs in the one true God, who's breath, breathed life unto our nation that has never existed until we arrived in, the world. By the way, it was by white people. Punt Intended.
Who welcomed you all into our country so gracelessly, whom are trying now to get rid of us white folks, and / or Christians alike, gee, sounds a little, perplexing, Get It? Look one hard cold fact, we as a nation, as well as all others, if we don't repent, and turn back towards God, we are Doomed, Get It, Mayas, Egyptians, Romans, as such!
I am so tired of this clash of cultures it makes me sick. Thanks New World Order, the Devils best ally and most, and not if all of the Ex Presidents that also worshiped, and worships the Devil, the 45th I am hopeful. Only God knows, woe unto him if he goes against the Lord, like the rest who are probably in hell. ( John 14:6 ) My skin color is better then yours, you suck, you are white, no blacks sucks, you brownies suck, yellows suck, you, we, all need to shut up. MEDIA, LEFT( Matthew 25:41) WING, AND SOME RIGHT WING. ( Matthew 27:36) Hypocrites!

YOU ALL NEED TO SHUT THE HELL UP. JESUS SAYS THAT MAN WAS CREATED IN HIS IMAGE, THIS MEANS, ALL SKIN COLORS, NOT ONE RACE OR OTHER. HE DOES STATE VERY PERFECTLY, HOW TO ENTER INTO HIS KINGDOM, NO MATTER, WHAT RACE, CREED, AND / OR RELIGION YOU COME FROM, YOU HAVE TO REPENT, TURN 180 DEGREES FROM YOUR WICKED WAYS, AND REPENT, ITS PRETTY CLEAR THOUGH.
By the way the reason I speak of our white Lilly ass, or white skin color, is to get the point across, how do you all like it, shut the hell up, about diversity.
Whose diversity, whom you speak of yours? Because as a blue eyed cracker I don't fell welcome, with you all!
Again the Muslim, and Islam, faith will never fit into our culture, if they would then they would then take that stupid, Rag off their head, and veil off of their face and put on a Baseball Cap instead, well maybe a Cowboy Hat, then you will become an American, not UN holy religion, that hates Jesus, Period, Get it. Fit in, or get out!
One thing I want to reiterate, this blog is about the wife's and my walk learning the Love of Christ, I know I am not the wimpy, kind of Christian you are use too! But I love all of humanity, but I disagree, with all who hate Jesus, Period. Love the sinner, but hate the sin, that's why I stand up for the Lords truth, that clearly states what's I put in this blog. With a smidgen of my, carnal flesh, sorry! But I am human, and not perfect, you know!
Also to all you  who have so much passivity, look what Christ says, about this. ( Luke 14:26) If you love the world, you are a enemy of mine, Jesus says.
I Pray, that we
( Luke 6:28 )

all learn to except, all peoples of the world, with love, and respect. But we don't have to let them come into our nation and with ill will towards our people, and who want to destroy our Nation as such!
MUSLIM NATIONS ARE CURSED SAYETH, THE LORD